Your money has no time to lose
Business lawyers specialists in debt collection

LafargeHolcim
Activity : Commercialization of aggregates, ready-mixed concrete and prefabricated products with value-added, bituminous asphalt products for engineering structures, roads and buildings
Workforce : 22.600 employees
Sales : 6,4 M€
Headquarters : Paris (75)
LafargeHolcim & Cabinet ARC : An effective partnership
Jérôme Mandrillon – Financial Director LafargeHolcim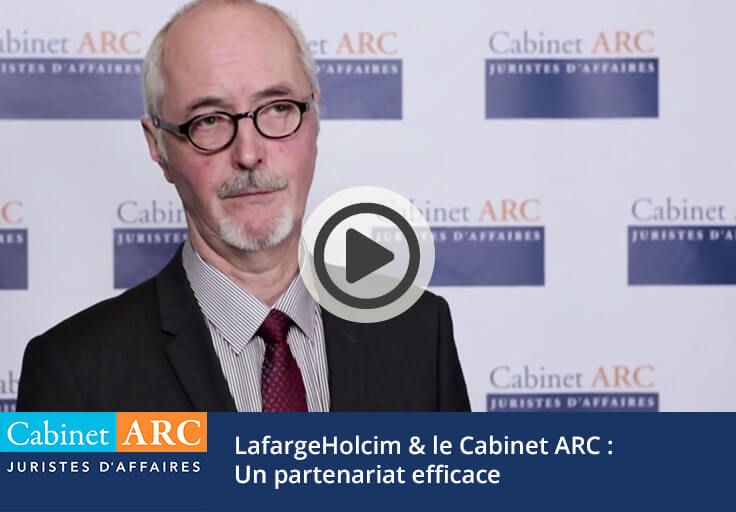 « Cabinet ARC really appealed to me in relation to how the framework was set up for two reasons : the first is that together we established the framework, so we have a charter that we both signed on the way I want them to carry out debt collection; and then, the way it returns the funds to me and how we should communicate in order to give me a quick cash return.
So through the charter, we decided on a completely electronic system. An electronic system is all the invoices we no longer have to pass over to them, they just come and get them from the web site where we keep them, so there is some modelling that has allowed them to save money too, and as far as we are concerned it makes for a win / win relationship.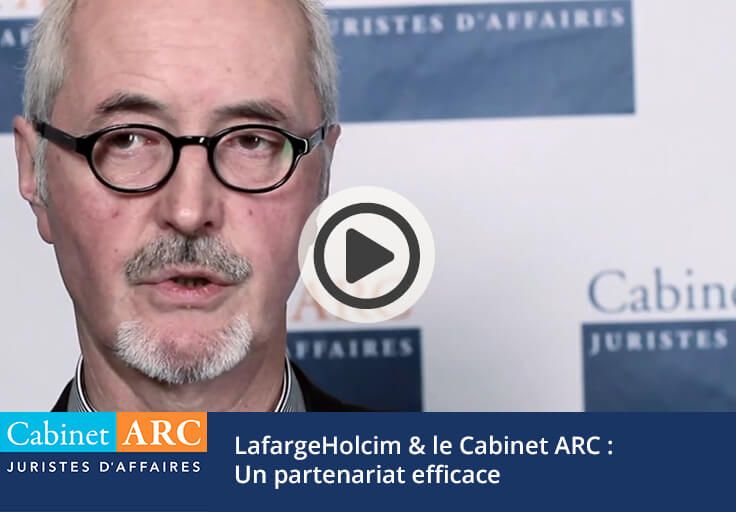 In terms of specifics, it is clearly the option of mounting two types of dispute scenarios : a scenario that is very legally based, that is to say immediately taking legal action; and then a more flexible scenario which allows for negotiation and putting moratoria in place, always with this customer support focus..
But what I really appealed to me, is the legal skill of Cabinet ARC which knows how to use the right procedure, make the right conservatory seizures, as they explained, and get a quick cash return. »
LafargeHolcim & Cabinet ARC : Challenges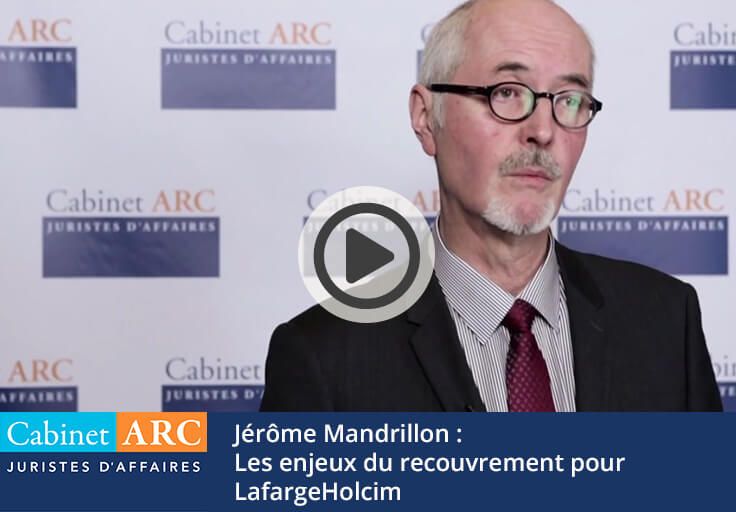 The challenges of debt collection are important especially in a business where things are currently difficult. So we have two impacts : France's modernisation of the economy legislation (LME) since we have a derogatory agreement that times for payments that we have to recover with the implementation of the LME are effective; and the second challenge is to continue to reduce our late payments and all this at the same time as staying close to our customers because if a customer, as I said earlier, has difficulties, with them we have to look at whether they are temporary difficulties or significant difficulties. »
The European Payment order revolution
Jérôme Mandrillon shares his views with us about debt collection procedures at European level.
How do you rate the new regulations implemented in the European Union ?
Jérôme Mandrillon : The abolition of the exequatur procedure is an undeniable step forward under European law, which saves a lot of time in terms of registering debt collection demands. But what could be considered a real revolution is the introduction of the European payment order.
In what way is it a revolution ?
J. M. : In actual fact, making the evidence electronic is the real challenge : via the certification already offered by organizations such as Certigreffe, it is possible to complete the application form for a payment order online, and it will soon be easy move to completely electronic formalization. It will make the debt collection procedure and the enforcement of court decisions even more efficient.
Do you use Cabinet Arc at LafargeHolcim?
J. M. : We have few interstate disputes, but we are working on various cases with the Cabinet ARC. I have known the firm for almost fifteen years, and appreciate its reliability and speed. We can rely on the Cabinet ARC lawyers to adapt in line with the desired speed for each case, and can monitor the developments in the situation and the status of the proceedings in real time. I consider Cabinet ARC to be a real long-term partner.